via
Majority Rights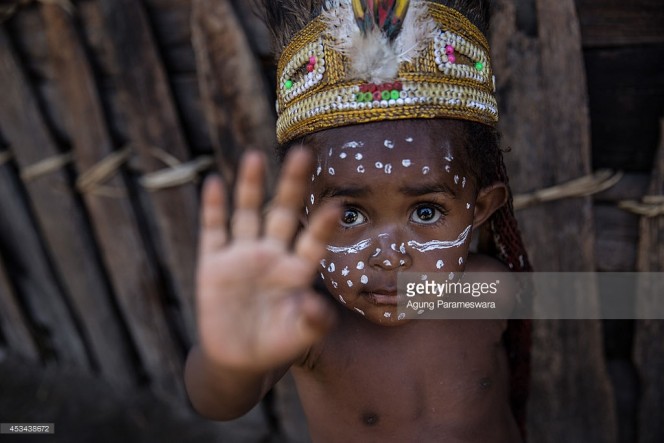 An ancient instinct that is vital:
"Wait - who are you?"
Xenophobia is no human idea, it is not a political ideology. The inherent notion that individuals from other ethnic groups are different is as old as humanity itself.
That political leaders throughout human history have tried to either foment or stifle this innate team spirit does not change its origin or function. Ultimately, while it has often come to be called xenophobia, it is a kind of defense mechanism of an ethnic group. It has a cohesive function but is also vital to the group's survival.

It is easy to think
today that racism is obsolete in modern societies, and political ideas that multicultural and multi-ethnic societies are something we can decide to create, and then use various integration programs as a tool to make this work artificially.
It is important to remember that "xenophobia" has always been the human diversity condition. Without this desire or sense of distinction and boundaries no ethnic group could have existed for very long before it would be adulterated and perish again.
The world's major ethnic groups; blacks, whites and Asians, and all its subsets of peoples did not come into existence overnight. It has taken nature tens of thousands, if not millions of years to enrich the earth with the human diversity which we have today. The birth of a new ethnic group has always been dependent on a distinct geographic location. For the purpose of various ethnic groups' birth and continued maintenance, they have always required "xenophobia", more properly termed "alien skepticism" or "stranger caution" as a prerequisite.
The principle or the basic human function is exactly the same as in individuals. An individual who is not skeptical or cautious when confronted with a stranger will not survive in the long run. This instinct is basically in all living creatures on earth and is deeply rooted.
The function and conclusion of prejudices
"Alien skepticism" or "fear" of the unknown is a kind of first line of defense. Here comes the concept of prejudice. An individual always makes a first assessment of the foreigner—a judgment before it knows any details for sure. We must also understand that individual assessment, when the unknown has become known, can shift from prejudice to "judgment", a conclusion based on knowledge.
However, today we are told by the modern political system that prejudice is just ignorance and as soon as this ignorance is gone, the foreigner should be welcomed. In fact, the individual's or group's conclusion could be that the foreigner cannot necessarily be given a pass, and may intend to cause us harm.
Racists in every expression of the negative sense, of course, are also those who want to cause an ethnic group's unity and uniqueness to perish through mixing and division. Many nations and entire civilizations during the history of humanity have vanished for this reason. Either by displacement and extinction or by blending them away out of all recognition.
A true defender of the world's human diversity turns naturally against both extremes of racism and genocide. Moreover, the criminalization of these two extremes is stated in the UN Declaration of Human Rights of 1948, saying that not only is performance of these acts criminal but it is also criminal to instigate them. Thus, the express intent or encouragement to try to create a multi-ethnic society, which inherently violates the right to the preservation of the ethnic and cultural characteristics of the group, or displacement or eradication of a people, could fall within the scope of this crime. In the UN declaration it says, among other things, that the following shall be considered as genocide:
"Deliberately inflicting on the group conditions of life intended to lead to its complete or partial physical destruction; (d) to take measures intended to prevent births within the group; (e) Forcibly transferring children of the group to another group. "
In the ongoing development of today's Sweden where a large number of non-European immigrants are coming to the country, a natural segregation process is marked by Swedes who move away from immigrant areas while various immigrant groups cluster together, and those immigrant groups quickly receive a residence permit and can select where in the country they want to stay. In this way the crime referred-to in the last paragraph concerning genocide may be relevant, eg. in cases where parents are not allowed to put their children into any school but are forced to send them to the local multi-ethnic schools where Swedish children in many Swedish schools already are a minority in their own country.
In the next step they might endeavor to create a multi-ethnic society through the use of integration programs, and this could fall within the scope of "hate crimes" because there would be a restriction of the indigenous group's autonomy.
The general conclusion regarding the question of earth's ethnic diversity is that the property known as "xenophobia" is a necessary evil. The key instead now is to thwart its extremes. The leading political establishment in general seems to dumb-down and exaggerate the image of our instinct for caution, instincts like defense and self-preservation. This they do, among other things, by trying to characterize as a disease, what is actually an instinct and a function that acts as a guarantor for the conservation of all communities, by using a negative-sounding designation such as "xenophobia". If there is an "undue fear" of the unknown, its assessment must of course be something that is considered "reasonable" and make sense, and it needs to exist and be expressed.
There has also been a confusion between the fact that ethnic groups are different and should be valued as such, with the idea that ethnic groups are ranked differently, the two are very different things. The most extreme manifestations of the debate would not even concern themselves with the thought that there are different kinds of people on earth.
This is often presented as options of black and white, where either you accept today's multicultural and ethnic change in Sweden beyond recognition, or you accept hatred and abuse against all immigrants who are in Sweden and the need to advocate a hundred percent purity. Swedes are a generally balanced people and have an absolutely predominant wish for neither of these extremes. Discernment is often the first casualty when debate deteriorates.
Reliance on these extremes and extremists, mainly in politics, business and the media is driving the currently extreme situation. However, what remains and ensures that we can get a more balanced society and social climate in the future, is that our age-old instinct for self-preservation can take on a balanced and natural expression.
Swedes may be very open-minded, but they also have a right to their own preservation.