via
Majority Rights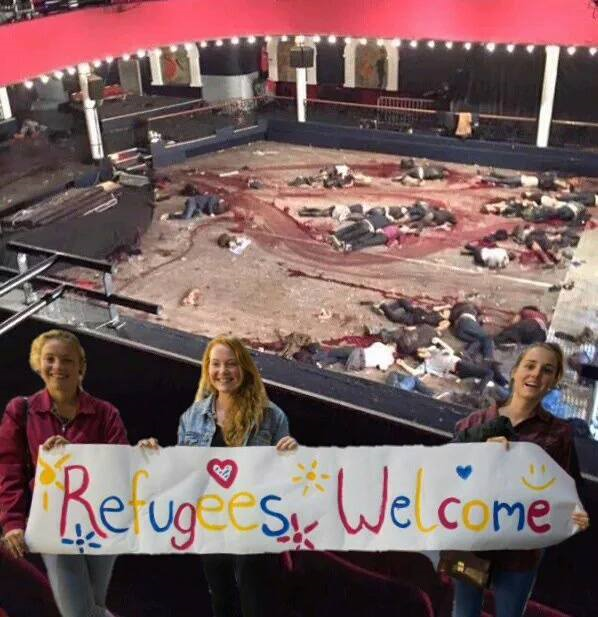 For his insolent defiance of Roger Waters plea that he not play Israel, he might have been singing "We don't need no education" right along with Pink Floyd .....but actually, maybe Jesse Hughes, his friends and fans could use a little. Try a
caveat on Abrahamic fellowship
.
Jesse Hughes, commencing an Eagles of Death Metal concert, Tel Aviv, 12 July 2015:
Now I'm also going to tell you another true story before I bring the rest of the boys up here. We decided to end the tour in this fuckin' city because we knew we couldn't top it once we got here. That is 87 percent the absolute truth. But then we got this letter from this cocksucker named Roger Waters (jeers from crowd). Do you want to know what I wrote that cocksucker back? Two words: Fuck You!...Fuck You! Ain't nobody goin' to keep me from my people here in Tel Aviv! Ain't Nobody!
Among other blundering statements, Hughes referred to Israelis as 'his people.' Unless there is something that we don't know about him, they are not his people. The crowd at Bataclan, who should be referred to as "his people", apparently did not know either that Israelis are not their people, or perhaps did not think attending a concert of someone who said that should, would, cost them their lives.
International Business Times, 'Paris attacks: Eagles of Death Metal defied pro-Palestine boycott movement and Roger Waters to play Israel', Nov 20, 2015:
A video has emerged of Eagles of Death Metal berating Pink Floyd founder and anti-Israel campaigner Roger Waters at a gig in Tel Aviv months before the Paris shooting at the Bataclan theatre.
The clip, from the band's Tel Aviv concert in July, shows lead singer Jesse Hughes offering an expletive-laden riposte to a letter sent to the band by Waters urging them to shun Israel. It has been circulated in the wake of atrocities that claimed the lives of 132 people on 13 November.
In it Hughes tells the Tel Aviv crowd the band decided to end their tour in the city because they "could not top it". The audience then boos mention of the Waters letter before Hughes shouts: "You want to know what I wrote that c********r back? Two words: f**k you!"
Waters, who has been accused of anti-Semitism, joined the Boycott, Divestment and Sanctions (BDS) Movement - an anti-Israel pressure group - in 2012. Upon joining he called out to other musicians in an article he wrote for the Guardian: "[This is] a plea to my colleagues in the music industry, and also to artists in other disciplines, to join this cultural boycott."
Roger Waters wrote to Eagles of Death Metal to urge them to boycott Israel.
The Paris attacks brought the video of Eagles of Death Metal back into focus because the formerly Jewish-owned Bataclan theatre which in the past has hosted pro-Israel Army events, and where the band were performing the night 89 people were killed, had supposedly been harassed by pro-Palestinian supporters in 2008.
Jesse Hughes is a "devout Christian." That explains his confusion over who "his people are."
He was interviewed before the Tel Aviv concert by "Consequence of Sound" -
CoS, 'Fly Like an Eagle of Death Metal: An Interview with Jesse Hughes', 1 Oct 2015:
At 43, Jesse Hughes hasn't become an old man just yet. With the energy of a 16-year-old, he makes the most eccentric man in the world sound like a boozy liar.
The Eagles of Death Metal frontman has an opinion — often obscenity-filled — about everything. "But I'm not a bag of wind!" he insists. Around 30 minutes after our prearranged meeting time, before Eagles of Death Metal's show in July, Hughes appears at his trendy hotel in the heart of Tel Aviv with two Israeli locals he just met at the falafel stand down the road. He's dressed in typical Hughes attire: black-and-white-striped t-shirt with the sleeves cut off, suspenders, light jeans, and a neon green trucker cap with "Eagles of Death Metal" printed in Hebrew lettering.
A second after we meet, he's chatting away on a tangent. Hughes is rarely off one. He sounds bluesy, even lusty when he talks, and when he gets especially riled up on a topic, he'll bow his head, slap his knee, and speak like a southern debutant, referring to his fans as "the kids." Hughes is as verbose as your archetypal reverend, hardly getting through his thoughts without breaching into song and then dissolving into giggles. Present him with a handshake or a voice recorder, and the truth serum starts to work.


Yeah, I've been shot before. Look. [shows scar on armpit] It made a canal through one of my muscles. I'll tell you how it went down: I was going through a really ugly divorce, and I'm a devout Christian, so divorce isn't a concept to me. I went through a very typical, clichéd "I served you my whole life, and this is what I get" anger. I weighed about 250 pounds, I was a big ol' redneck boy. I was managing this privately owned chain of video stores and part-time freelancing for the Republican Party and speech writing and shit like that. The most awful thing I could think of immediately was to start taking speed. I lost 80 pounds, got really depressed. My mother called Joshua [Homme] because she felt he was one of the only dudes I listened to.

He dishes it out today. During our conversation, he gets into the full specifics of being saved from addiction by bandmate Joshua Homme, how he's already written half of EODM's next album, and how he's struggling to convince everyone he's a devout Christian who gets high and uses the phrase "titty-wobbling." He talks about his face being a nipple on his album cover as seriously as his faith. "I know what you're thinking — my life's a contradiction," he admits.
It's dark stuff, but Jesse "The Devil" Hughes has a wicked sense of humor — crushing, hypnotic, and frequently laugh-out-loud ridiculous. "My way of thinking is," he shrugs, "it's gonna be harder in hell for me than for y'all. I'm just not going to be the fool that doesn't know why he's there."
Christianity and its Enlightened step-child play a strong part in the confused identity and allegiance of welcomers as well.. ...and the upshot of that confusion…