via
Majority Rights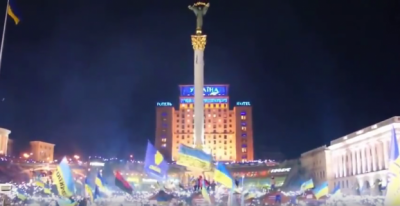 Much as we disapprove of the war in Ukraine and recognize the nefarious Jewish and capitalist machinations behind it, we should not, on the other hand, fail to recognize that Ukraine is a distinct nation of our European peoples which ultimately deserves its sovereignty as well - as a nation in European cooperation: i.e., be skeptical about European relations and "The EU" and NATO for precisely the same reasons as those behind the boggled conflict as it would have been, particularly with the Jewish hand wielding part; but not totally cynical of some concept of European Union, even if we have nothing like a bonafide version of that or national sovereignty at present. If we can ever be free of deracinated international capitalist control and Jewish influence ...we might dream big, we might even dream of wresting the powers of NATO to our genuine defense as European peoples and lands throughout.
We should aspire that our European peoples wake from the Abrahamic fairy tale, chimera, really, to take our full sovereignty for the first time in millennia…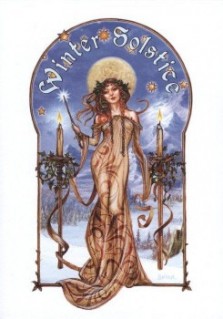 Happy Winter Solstice Europeans!
-
Solstice card courtesy TT
They told me a fairy story 'till I believed in the israelite
They said there'll be snow at christmas
They said there'll be peace on earth
But instead it just kept on raining
A veil of tears for the virgin's birth
I remember one christmas morning
A winters light and a distant choir
And the peal of a bell and that christmas tree smell
And their eyes full of tinsel and fire
They sold me a dream of christmas
They sold me a silent night
And they told me a fairy story
'till I believed in the israelite
And I believed in father christmas
And I looked at the sky with excited eyes
'till I woke with a yawn in the first light of dawn
And I saw him and through his disguise
I wish you a hopeful christmas
I wish you a brave new year
All anguish pain and sadness
Leave your heart and let your road be clear
They said there'll be snow at christmas
They said there'll be peace on earth
Hallelujah noel be it heaven or hell
The christmas you get you deserve
Emerson, Lake & Palmer - I Believe In Father Christmas Lyrics | MetroLyrics
...and
a Ukrainian folk song
that has come to be known as the Christmas song "
Carol of Bells
"