via
Aryan Skynet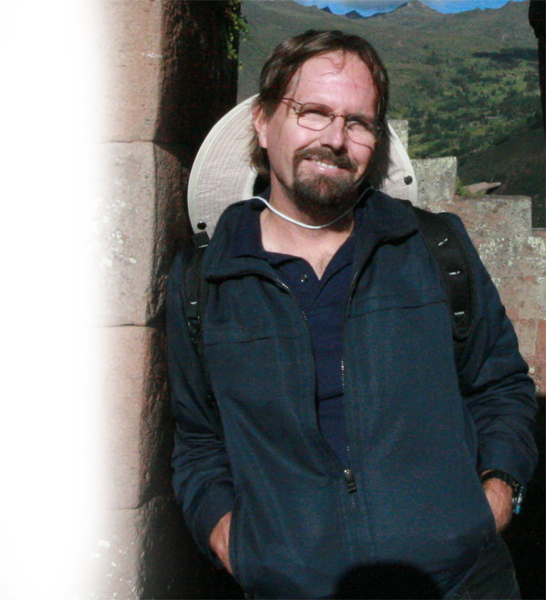 Historian and filmmaker Kim MacQuarrie
Historian and filmmaker Kim MacQuarrie's recently published
Life and Death in the Andes: On the Trail of Bandits, Heroes, and Revolutionaries
, a volume of intertwined historical portraits and travel anecdotes, contains the following episode in its first chapter, "The Hunt for Pablo Escobar and the Search for El Dorado":
"Do you know what Colombia's greatest 'sport' is?" asks Alexander, a twenty-eight-year-old Colombian teacher from Bogota. Alexander is giving me and two of his friends a ride out to Lake Guatavita, the sacred lake where the story of El Dorado was born.
"Soccer?" I suggest, staring through the windshield from the front seat.
"No," he says, shaking his head.
He looks over at me, and I shake my head, too.
"Murder," he says matter-of-factly, shrugging his shoulders. Alexander swerves to give a wide berth to a tight cluster of bicyclists on the right-hand side of the highway, their helmeted heads down, their black and yellow outfits gleaming in the early morning sun. Bicycling and bicycle racing is a popular sport in Colombia, and on Sundays it seems like half of Bogota puts on tight shorts, shirts, and helmets and takes to the streets. The cyclists remind me of the fact that Pablo Escobar's older brother, Roberto, was once a champion bicycle racer before he joined Pablo's growing drug business.
"So why is there so much violence in Colombia?" I ask.
"Genes," Alexander says, without missing a beat.
He looks at me, and I shake my head again, not understanding.
"We were conquered by murderers," he says. "Our ancestors were thieves and barbarians. Violence is in our genes."1
The reader, of course, is left to assume that
European
genes are the ones disrupting Colombia's delicate social fabric. If not for those misbegotten Spanish
conquistadores
with their grasping for gold and their legacy of oppression and genocide, the simple Amerindian folk would be out riding their bicycles – which, given time, they no doubt would have invented on their own without the interference of meddlesome white men – in perfect harmony with the environment.
One would expect to find, therefore, that the country's most murder-prone areas would host concentrations of European stock – or the fairest constituents of the "non-ethnic" population, as whites and mestizos are lumped together in Colombia's census
2
. Instead, the most violent spot on the map is the heavily African coastal city of Buenaventura. Anastasia Moloney, writing for
Reuters
, describes this place as follows:
Communities living in waterside slums are often caught in the middle of drug turf wars in a city wracked by "terror in no-man's land", as Human Rights Watch (HRW) recently described Buenaventura. Ask any Colombian about Buenaventura and most will say the city is a "national shame".
Colombia is considered a middle-income country and has enjoyed record foreign investment and robust economic growth. It's almost impossible, though, to find any of that prosperity trickling down to Buenaventura's residents. The city has long had a reputation for lawlessness and high levels of crime. But the recent wave of violence in Buenaventura has shocked Colombians and dominates local headlines. Over the past 18 months, the mutilated body parts of at least a dozen people have been found washed up along Buenaventura's shores, according to Colombian human rights groups, the city's bishop, Hector Epalza, and testimonies collected by HRW. Residents have reported hearing people scream and plea for mercy as they are cut up alive with chainsaws in so-called "chop-up houses" by gang members.
Colombian authorities blame the latest escalation of violence on a turf war between two rival gangs – the Urabenos and Empresa – as they fight for control over lucrative drug smuggling routes and extortion rackets in Buenaventura. […]
Murders take place every day in Buenaventura. The city has one of the highest murder rates in South America – at nearly 50 murders per 100,000 people – compared with Colombia's national average of 31 murders per 100,000 people. Parents say they fear their children getting caught in gang crossfire and hit by stray bullets.
Meredith Hoffman, writing at
Slate
, offers this:
"Buenaventura, the best ecotourism destination in Colombia," Edwin Zuluaga, director of Buenaventura's Association for Tourism and Culture, reads off the first slide of a PowerPoint presentation. "Buenaventura has incredible touristic potential."
Zuluaga's ambitious presentation obscures a darker reality about Colombia's principal port city: The ships and stilts out the window hover over a watery graveyard, a dumping ground for those who have fallen prey to ongoing violence. A horrific war between rival gangs has turned this impoverished city of 400,000 people on Colombia's Pacific coast into the country's most violent city, featuring "chop-up houses"—where people are reportedly dismembered alive—and one of the highest murder rates in the world. Colombia's military is arriving in large numbers to restore order in the city, whose coastal position also makes it a major drug trafficking hub. […]
In recent years, as Colombia emerged from its decades-long guerrilla war, the economy has boomed and tourism has flourished. But in Buenaventura, feuding gangs—the Urabeños and the Empresa, both successors to the paramilitary groups that were formed to fight the leftist FARC guerrillas—routinely terrorize local populations, threaten local journalists for reporting crimes, and sometimes kill young children. Adding to the madness, Colombian guerrilla fighters last month targeted the city with a bombing that cut off electricity for days. Police have done little to improve the situation, according to a recent report by Human Rights Watch, which found that police avoided patrolling high-crime neighborhoods and have been seen holding meetings with gang members.
Simon Romero, covering the crime situation in Buenaventura for
The New York Times
in 2007, contributed these memorable images:
Soldiers search almost every car at checkpoints on the winding road from Cali. Guerrillas recently fired mortar shells at the police headquarters. The stately Hotel Estación, a neo-Classical gem built in 1928, where executives come to hammer out deals to import cars or export coffee, is guarded by dozens of soldiers in combat fatigues.
"It's as if we have a little Haiti within Colombia," said Lt. Nikolai Viviescas, 25, a police officer who was transferred from Bogotá six months ago. "It feels like another country."
Although Bogotá, the capital, and other cities have become secure and prosperous enough that it is possible there to forget about this country's four-decade-old civil conflict for a while, Buenaventura is a different story.
Killings in this city of about 300,000 climbed 30 percent last year, to 408, giving Buenaventura the nation's highest homicide rate at 144 per 100,000, more than seven times the rate in Bogotá and four times that of Medellín. And this year, the police say, 222 people have been killed here. […]
"Nothing in this fight is about ideology," said Antero Viveros, the head of a community group in Lleras, a large slum controlled by the guerrillas. "It is about drugs, with members of one ethnicity killing each other."
Despite its emergence as Colombia's most dangerous city, people displaced by fighting in the countryside still see Buenaventura as a refuge. About 42,000 refugees have arrived here since 1998, mostly Afro-Colombians from rural areas, according to the federal government. They swell the ranks of what may be Colombia's poorest slums. […]
President Álvaro Uribe has forcefully criticized the violence here and sent new police and navy commanders to the city at the start of the year.
About 2,000 soldiers and police officers, who also wear combat uniforms and carry semiautomatic weapons, patrol Buenaventura.
Still, critics say authorities have long neglected Buenaventura's problems in part because Afro-Colombians receive scant federal attention.
Nongovernmental groups say Afro-Colombians account for up to a quarter of the country's population of 44 million, by some measures giving Colombia the largest black population in the Spanish-speaking world. And more than 80 percent of Buenaventura's residents are black.
This month, when the president chose Paula Marcela Moreno Zapata as culture minister, was the first time an Afro-Colombian ascended to a cabinet position in the country's history. Yet political analysts and black advocacy groups said the appointment was largely to appease Democrats in Washington who complain of racial exclusion in Colombia as they weigh a trade agreement. […]
The entrance to Lleras looks like that of any shantytown elsewhere in Colombia, with cinder-block shacks and a few paved streets. But deeper into the slum, the structures are made from discarded wood, with newcomers squeezing into lean-tos alongside older houses. Rusted barrels collect rain from zinc roofs, the only source of fresh water.
Sewage bubbles down trash-strewn dirt roads before flowing into the sea. Stereos blare vallenato and reggaetón music. And precariously built homes are hoisted above the water on spindly pieces of wood.
Many of the residents of these hovels hesitate to offer their names out of fear of retaliation over what they might say. One middle-aged man, offering a visitor a cup of rum from the steps of his house, said he had worked as a stevedore at the port years ago before losing that job. "Now," he said, "I do nothing." […]
Civilians are increasingly caught in the cross-fire. Guerrillas were blamed for an attack earlier this year in which five people, including one police officer, were killed when a homemade mortar shell was fired at a police truck. Security officials here say laws that are lax on minors, who carry out many of the attacks, make it difficult to reduce the killings.
"We have a justice system designed for Switzerland, yet we have no Swiss here," said Col. Yamil Moreno, the chief of police in Buenaventura. In the same breath, Colonel Moreno, who was transferred here from the north, callously described Buenaventura's dying combatants.
"These vagabonds," he said, "are good only for drinking, dancing and killing."
Europeans
do
, then, bear a degree of responsibility for a great deal of Colombia's carnage – specifically for importing the African slaves whose slum-dwelling descendants now disport themselves in the "chop-up houses" of a city boasting a
homicide rate
that makes Detroit look like Whitefish, Montana.
Notes:
MacQuarrie, Kim. Life and Death in the Andes: On the Trail of Bandits, Heroes, and Revolutionaries. New York, NY: Simon & Schuster, 2015, p. 18.