via
Majority Rights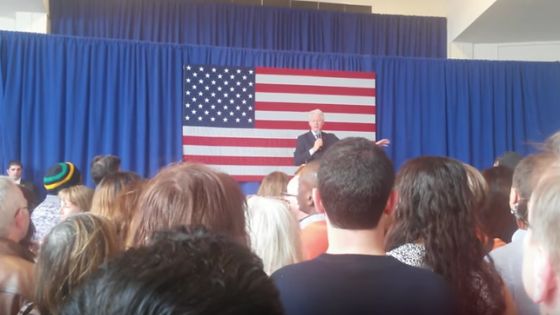 Bill Clinton presenting his usual stump on behalf
of Hillary to a synagogue audience in Illinois
The "inclusive, inclusive, inclusive" bit was frightening in the 1990s, when he was running for President, because "inclusive" can be a good concept when applied within a legitimate classification; and at the time there was more chance that it could have been honestly mistaken as if that's what he meant; and not heard as what he actually means, which is the Jewish "inclusive" - a hyper-liberal inclusiveness that would include everybody [and he does emphasize
everybody
] - people formerly from without of a racial classification and formerly outside of the nation. This paradoxical "inclusiveness" would ultimately dissolve the classification, the nation, the people, the tribe altogether - viz., it would dissolve the very thing to be included-in.
It would dissolved to a vague catch-all category of undifferentiated gentile others; while one tribe would maintain its distinction, of course.
In 2016 it sounds less frightening than totally absurd given the floods of immigration into The U.S. and Europe. This audience in the synagogue reacts only with applause either because they are completely blind to the fact that they are being herded, thinking that they can maintain their Jewish sanctioned activist distinctions indefinitely, or because they are in on the joke.
Their biggest applause are reserved for when Bill says that what he is most proud of is that Hillary distinguishes herself from the other candidates by more fervently denouncing prejudice against Muslim Americans (
following the Noachide laws
apparently being good enough to qualify people for inclusion as Americans). Bill concludes by rubbing his hands together with the audience over the prospect (given Scalia's death) of Hillary putting through another "Justice" just as good as the one that he put on the Court.
Bill literally wept before America, so moved as he was when his nominee had ascended to The Supreme Court.
Among Chief Justice Ruth Bader Ginsburg's first statements was to maintain her long standing conviction as a "civil rights" advocate that nobody should be discriminated against on the basis of immutable characteristics.
European peoples, the time for being alarmed or despairing over this has long since passed. The neo-liberal complicity with the Jewish notion of "including 'marginals" is, as I have said in several places, a paradoxical notion of "inclusion" that they have put together with an inverted notion of "marginals" - a notion of "marginals" by which they mean not marginals, as that would imply those who are
just within
our boundaries but being pushed to the side and ultimately outside - they mean rather taking in those
from without
.
With the flooding incursion of migrants and the chutzpah of this inclusion rhetoric absurdly unabated, it is time to see all of this for what it is and to organize as Whites/Native Europeans - maintaining our important distinctions and bounds as they provide accountability and serve our human ecologies, sure; but recognizing that we must coordinate our defense with overall organization
as European peoples
.
We are under attack for that reason in essence, no matter where or what we might take recourse to in lieu of defending ourselves on that basis. Wherever we are, we are in need of a union, unions and coordination of defense based on our most precious and essential bond - that is our DNA.
Europeans can no longer afford to tarry uncritically with those who would proceed with the modernist bastard child that is universal principles and rights, nor cater to those who would attempt to "save us" with neo-traditional re-organizations under the anachronistic rubric and poison rule structures of "Christendom."
These aren't surrogates for our DNA and biology - in lieu of that rather, they are midwives to the birthing of pan-mixia and our genocide.
Picture a cartoon illustration here that I had to take down due to EU law. Its title reads "Jews, Musilims, Christians." Beneath that title it shows the identical happy self hand clasping merchant three times - their only being dressed differently and having slightly different skin tone - the obvious implication being that there is no important difference. There is a sarcastic sub-title: "know the difference, it could save your nation" and a conclusive line, "Semitic Religion, not even once." Which is the same as saying, Abrahamic religion, not even once.
The time has also passed to be surprised or despair at how the all too
kosher Merkel will act
quite similarly with regard to our borders on the European end, and how the Noachide sheep will react to those who would oppose her - marking little difference between Europeans in America or here in Europe, as they continue to operate under the same neo-liberal rule structures and Noachide law. The time is now to wrest and forge our rule structure anew in organization and activism of the White Class.