via
Majority Rights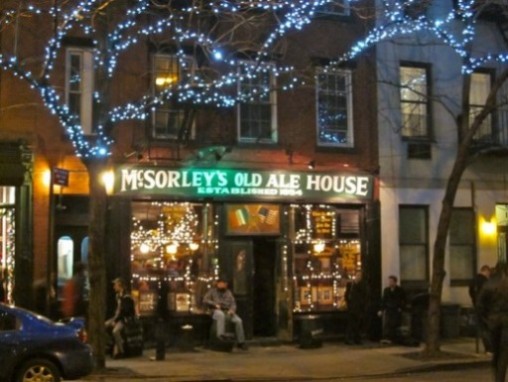 It was this bartender's first year at
McSorley's
the first time that I went there some years ago when I was 18. It was perhaps the first time that I drank so many beers. I suppose he could have thrown me out when I started running around the place euphoric on hops as I was, but he merely told me to calm down. He was also there again my last time there (2007, I guess it was). On that occasion a TV talk show crew came in with a lesbian couple (black woman and White woman) who were asking men's opinion as to whether the White girl should get breast implants since she thought that would please her black girlfriend. I was asked my opinion by the production crew. I answered that in particular, "I rather like flat chested women, so my opinion is particularly biased against breast implants for that reason for starters; but there were more reasons to be against it than that; including as part of a more general stance against bodily alteration - I stated that I believe that given that our bodies have evolved over tens of thousands of years, that they are bound to be wiser, smarter if you will, than our conscious decision making and should be given the benefit of the doubt against our anxieties and against popular consensus; rather, we should try to learn what our bodies have to teach us about our interface with the social ecology and bring our corporeality to bear in social critique if necessary, rather than the other way around - bending to what may well be a popular fad against the better wisdom of our evolution." I was told by the couple that my answer was good and they asked me to sign a release; but the bartender, yes that one, asked, "what was that 'stuff' you were saying? ...I don't think that was what the TV producers were looking for." I suppose that he was right and that my opinion was not aired.
Interracial lesbians wanting to air-out the matter of breast implants at McSorley's? Heck, women were not even allowed in the pub until it was forced to allow them in 1970 when the NOW attorneys Faith Seidenberg and Karen DeCrow won a discrimination suit against them.
That is among the benchmarks of what is, by American standards, a historical bar, patronized also by the famous: well circulated writers drank there; famous athletes drank there - e.g. in the movie, "Pride of The Yankees", the legendary Babe Ruth announced to all of the Yankees that he was buying rounds for the team at McSorley's after the game - many things can be said about the demographic that has gotten sloshed while noshing onions, mustard and cheese by the potbelly stove and saw-dust strewn floor; but aside from a few infamous luminaries - U.S. Presidents have drunk there as well, ranging from racial rogues the likes of Lincoln to Kennedy - the rank and file attendees have not been the kind of demographic responsible for crime in NYC.
The folks down at McSorley's aren't committing the crime in N.Y.C.
I don't know if it's a precisely true fact, but I once heard that if you could take blacks out of The U.S., that the violent crime rates would be similar to that of Switzerland…
TNO, "89% of all Crime in NYC Nonwhite," 4 March 2016:
Nonwhites commit 89 percent of all crime in New York City, including 97.7 percent of all shootings, 96 percent of all robberies, 94.2 percent of all murders, 94.9 percent of all Juvenile Felony and Misdemeanor crimes, and 90.6 percent of all rapes.
These figures are contained in the New York City Police Department's latest "Crime and Enforcement Activity in New York City" report, which covers the dates January 1 to December 31, 2015. It can be found on the New York Government website here.

The report is almost unique in present-day America because it openly presents statistics on race and crime compiled from the NYC Police Department's records management system—statistics that are most often suppressed by other police departments.
In addition, the NYPD breaks down the racial categories correctly, listing "Hispanic" separately instead of grouping it together with "white," which is what most of the US government does (thereby artificially inflating the "white" crime levels).
The only potential problem with the NYPD figures is that the racial classifications are made by officers or precinct clerical staff interviewing the victim or complainant.
As the report said, the "suspect's description is also recorded at this time but relies on the victim's assessment of race and ethnicity given their interaction with the suspect. The arrestee race/ethnicity is recorded as a result of the officer's assessment of the individual's identification documents, the individual's physical characteristics, and in many cases their prior criminal record. Arrestee race/ethnicity and victim designation of suspect race/ethnicity may therefore vary due to the different methods of determination."
Considering that the public at large is highly ignorant of race and unaware of accurate racial categories—and that nonwhites will often classify light-skinned Hispanics as "white"—there will inevitably be a margin of error in the NYPD statistics.
Nonetheless, even using the figures as they are, they clearly demonstrate the fact that the vast majority of serious crime in America's largest city is nonwhite in origin.
The report shows that nonwhites, as a group, commit:
94.2 percent of all murders;

90.6 percent of all rapes. Whites account for 18.6 percent of all rape victims;

87.9 percent of "other felony sex crimes," which includes sodomy, sexual abuse first degree, incest and sexual conduct against a child. White victims account for 22.6 percent of all victims in this category;
96 percent of all robberies;

90.8 percent of all felonious assault crimes;
88 percent of all grand larceny crimes;
88.3 percent of all misdemeanor sex crimes, which include sex abuse, sexual misconduct, and forcible touching;
88.9 percent of all misdemeanor assault and related offenses;
84.6 percent of all petit larceny crimes;
87.5 percent of all firearm arrests;
85.5 percent of all proactive offenses (drug arrests & allegations);

87 percent of all proactive property crimes;
88.8 percent of all violent crime and stop question and frisk activity;


94.9 percent of all felony and misdemeanor complaint records with identified juvenile victims, suspects, and arrestees.
This works out at a statistical average of 89.61 percent of all crimes in New York City.
83.2 percent of all misdemeanor criminal mischief;
97.7 percent of all shootings;


94.9 percent of all felony and misdemeanor complaint records with identified juvenile victims, suspects, and arrestees.

This works out at a statistical average of 89.61 percent of all crimes in New York City.

And a sanguine comment, from 'Rerevisionist' on March 4, 2016 at 9:49 pm -
" The really huge crimes in New York are non-white too, if you accept that 'jews' are not a white race"