via
Majority Rights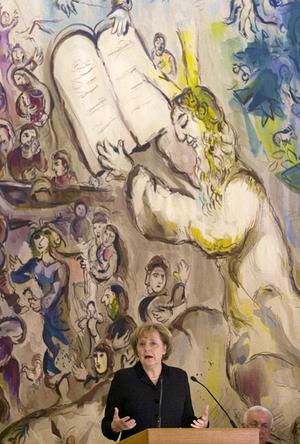 The German government is to give nonwhite invaders preference in the job market and will legally force residential mixing in terms of a new "integration law."
The law will artificially create 100,000 jobs which will exclusively be allocated to "refugees"—even though there are currently 1.81 million Germans who are unemployed.
To enable this preferential treatment, a currently-existing law which requires employers to give preference to German job applicants will be suspended for three years—in other words, unemployed Germans will be pushed to the back of the seeking-work queue in favor of the nonwhite invaders.
The seasonally adjusted harmonized jobless rate in Germany was, according to Trading Economics, recorded at 4.3 percent in February of 2016, unchanged from the January rate. This means that 1.81 million Germans are out of work.
The proposed law, announced this week by the Angela Merkel government, is being packaged as a measure designed to make "refugees integrate into society in return for being allowed to live and work in the country."
Under the conservative-socialist coalition government's measures, the "asylum seekers" will face cuts to their welfare payments if they refuse to attend language classes or "lessons in German laws or cultural basics."
It has not been said what these "cultural basics" will entail, but, given their behavior in Germany up to this time, they will probably include exhortations not to rape, rob, commit crime, how to use toilets, etc.
The new law will also "punish" the nonwhites if they move away from the white German towns where they have been placed—because the law says the forming of "ghettos" must be prevented.
At the same time, Israel practices racial separatism, seeing no reason to take-on immigrants, let alone assimilate them with integration. On the contrary, the Jews protect their E.G.I. as sacrosanct while compelling others to blend-away theirs with each other.
SMH, "Merkel pledges to stand by Israel, 20 Mar 2008:
IN AN emotional tribute to victims and survivors of the Holocaust, the German Chancellor, Angela Merkel, said the Nazi genocide "fills us Germans with shame" and pledged to stand by Israel's side against any threat, particularly from Iran.
Apparently being chastised by her more fully Jewish master

"This historic responsibility is part of my country's fundamental policy," Dr Merkel said in a speech delivered in German to a special session of the Israeli parliament. "It means that for me, as a German chancellor, Israel's security is non-negotiable.
Angela Merkel: Prime Signatory of Europe's Death Warran
Our research shows that Merkel is likely to be partly Jewish. Whatever she is and whatever her motivation, her policies lead to genocide of Europeans, especially Germans:
EP President Schulz: Germany exists only in order to ensure the existence of the Jewish people.
This is all very hard for Angela to suffer, but she's got to do what she's got to do for her people.
In the meantime, Gregor Gysi has been working hard in a supporting role to promote the death of Germans.
Fellow apparatchik with Merkel
in the communist East German GDR
government and ever the Jewish henchman, Gregor Gysi has been calling normal Germans "Nazis" for resisting their death through assimilation in waves of imposed immigration; and calls for their elimination (death) as such - to him, "a very fortunate" prognosis.
Ladies and gentlemen, I hereby prompt you to participate at the protest,"Live better without Nazis - diversity is our future", on the 6th of June at 10a.m. in Neurupinn. We have to take a stand against the Nazis. Because of our history between 1933 - 1945 we are obliged to treat refugees properly. We also have to save their lives in the Mediterranean. There has to be a legal [unbureaucratic] way to get asylum in Europe. Countries like Poland - very Catholic by the way - have to be willing to accept [more] refugees. Oh, and by the way: Every year more native Germans die than there are born. That is very fortunate. It's because the Nazis are not very good at having offspring. This decline [of Germans] is why we are so dependent on immigration from foreign countries. - See you at the protest. Goodbye! Gregor Gysi